Reindeer on Duty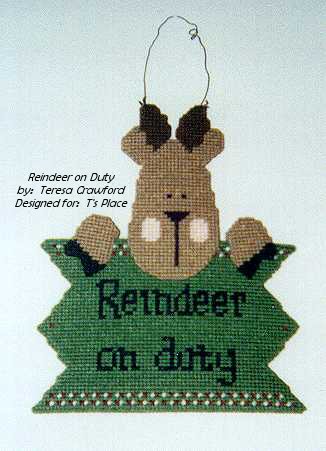 Materials Used:
3 sheets of 7 count Plastic Canvas Mesh
Needloft Yarn:
#00 Black - 5 yds.
#27 Holly - 50 yds.
#42 Crimson - 3 yds.
#08 Light Pink - 1 yds.
#41 White - 2 yds.
#43 Maple - 15 yds.
#15 Brown - 3 yds.
Crafters Black Wire - 10 inches
Crafters Glue

Stitches Used:
Continental Stitch
Cross Stitch
Overcast Stitch
Instructions:

Cut 1 piece of pc mesh 71X48 threads according to the sign pattern. Plus cut out another piece of pc mesh 29X53 according to the reindeer pattern and 2 14X18 pieces as indicated for the hoofs (remember the right & left are not the same so you will have to look at the pattern for both of them). Follow the patterns to stitch the project. The reindeers eyes are done in cross stitch and so is all the Crimson on the sign. When completed Overcast all pieces in the color in that area. Center the reindeer on the sign just above the words and glue it on. Place the hoofs just a bit on either side of the reindeer and glue into place. You might want to use a little bit of brown thread to anchor more securely into place, but it's not really necessary. Thread your Crafters Black Wire through the tip of one antler making a couple of curls before threading it through the other. Curl both ends to make sure the wire stays securely in place.
Questions or comments? Contact teresa@tsplace.com
Copyright 1997-2017 Teresa Crawford. Not for commercial use without permission
Back to T's Place!