Thankful Hearts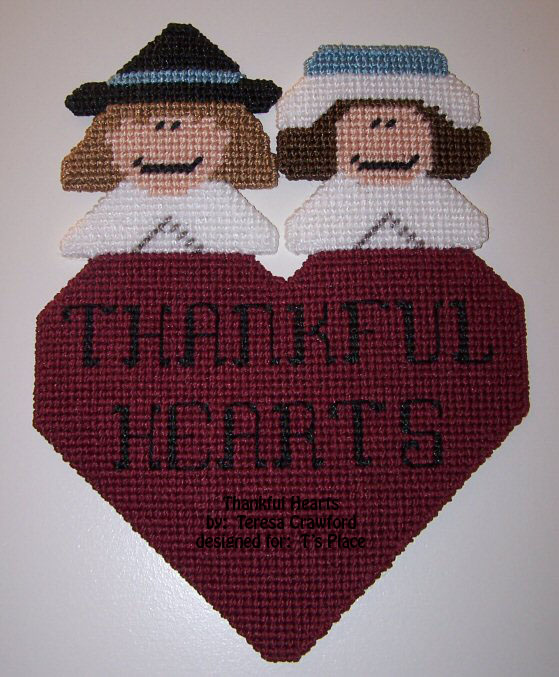 Materials Used:
7 Count PC Mesh - 2 pieces
Needloft Yarn:

#03 Burgundy = 30 yds
#00 Black = 6 yds
#41 White = 9 yds
#35 Sail Blue = 3 yds
#38 Gray = 1 yd
#43 Camel = 3 yds (boy's hair)
#14 Cinnamon = 2 yds (girl's hair)
#56 Flesh Tone = 4 yds
DMC #5 Cord:
#310 Black = 2 yds
Stitches Used:
Continental Stitch
Straight Stitch
Whipstitch

Instructions:
Cut 2 pieces of plastic canvas, 64X86 threads (63X85 holes) according to the pattern. Follow the pattern to stitch the front of the project. You can either stitch the pilgrims with the same hair color or as I did in the picture, different colors. Save the black DMC #5 cord, straight stitch, for the letters as it has to go over the burgundy color in the heart. The back is unstitched and whipstitched to the front in adjoining colors, after all stitching is complete. Hang as desired.

Questions or comments? Contact teresa@tsplace.com
Copyright 1997-2017 Teresa Crawford. Not for commercial use without permission
Back to T's Place!